24 Colors Glitter Resin Pigments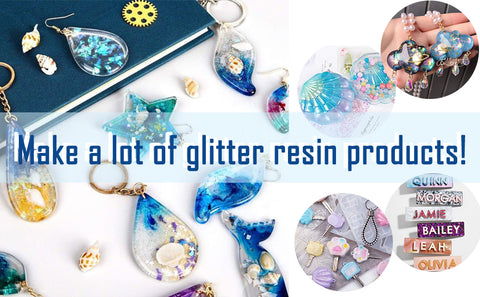 24 colored liquid dyes for epoxy and UV resin. 10g per bottle, 240g in total.
Include purple, smoky purple, sunset red, warm red, red, twilight purple, mint, cornflower, apple green, sunbeam, green, yellow, orange, gold pearl, silver pearl, pink, gold, fiji, copper, silver grey, blue silver, aqua, silver, aquarium
For resin jewelry making (galaxy or iridescent cobochon, necklace, pendant charms, earring) and crafts decorations, resin pour art, painting, garment accessories and other DIY crafts
High concentrated, a little goes a long way. You can mix it with another pigments to achieve the desired color. The tips of all pigment dyes have been sealed to prevent leakage. Cut out the opening for the first use. Shake before use.
Made of high quality material, non-toxic and non-radioactive. Safe for the environment and you! Essential resin casting equipment and jewelry making supplies. Beginner friendly.
Model number:3214-3237
UPC:'7374358106367